Environment´s information
VIDEOS OF ARACENA AND ITS ENVIRONMENT 
Aracena is awesome:   http://youtu.be/HPj1dYBGvtM
Mountain Chain of Aracena, Huelva:   http://youtu.be/zpJXYl0jyio
1st Cave Las Maravillas:  http://youtu.be/ITMG39JIVS8
2nd Cave Las Maravillas:  http://youtu.be/ITMG39JIVS8
Mountain Chain of Aracena - Farmland: http://youtu.be/NFpRHSX8jm4
Villages and Towns in the Mountain Chain: http://youtu.be/pS3nKqmkUWQ
GDR 1st El corcho:  http://youtu.be/VRYGPtCSN0c
GDR 2nd El corcho: http://youtu.be/Txo9ctGyRV4
My origins:  http://youtu.be/GarwU1qNnNY
Castle of Cortegana:  http://youtu.be/Jqgwsr7F90Y
Cave Las Maravillas, Spain-Direct:  http://youtu.be/yRkoe9y-IWU
Cave  Las Maravillas- 1st Reason: http://youtu.be/9tvDTdOjy9s
Iberian Pork – 3rd Reason:  http://youtu.be/xQGg7rSunKg
Anibal Gonzales – 4th Reason:  http://youtu.be/51JnA5iOpEY
Mandinguera – 8th Razon:  http://youtu.be/G1Zqg28wl2s
Iberian products – 10 reason:   http://youtu.be/1LzYjLJ3OMg 
Ham Fair of Aracena:   http://youtu.be/8fBrXeaOFzo
Islamic Conferences of Almonaster la Real:   http://youtu.be/-plU_CCuDIc
 
Aracena
It is a touristic place by excellence, it is led by the hill of the castle, over it there are the ruins of the old fortress risen and of the Priorial of the Castle Church (XIII century), which was built by the Templars. Under this hill is located the Cave of the Wonders. Traditional touristic destination, thanks to the attractive of the famous Cave of the Wonders, insignia of all the Mountain Chain, that in many occasions has overshadowed the rich cultural and ethnographic heritage of this beautiful city. Above a monumental heritage of first order, the locality has an active cultural life, a wide and representative varied festive of the habits. The traveler who visits Aracena cannot miss the charming of its rural areas, rich in manifestations of folk architecture (fountains, sinks, mills), and the attractive of its landscapes. This city has with the widest net of marked paths of the Mountain Chain, ideal for hiking, and that lets us to know by foot, by horse and sometimes by bike as well the attractive places of the rural environment. And everything with the fullest offer of touristic services.
Tours

*Cave Las Maravillas.
* Historic Artistic Heritage route.
*Museums route .
*Water route.
*A walk through the squares
*Route of Aníbal González.
WHERE TO GO

Castaño del Robledo
En pleno corazón de la sierra, en medio de una frondosa masa forestal rica en castaños, de donde toma su nombre, pinos, alcornoques y encinas, rodeado de huertas y frutales, se sitúa el Castaño del Ro...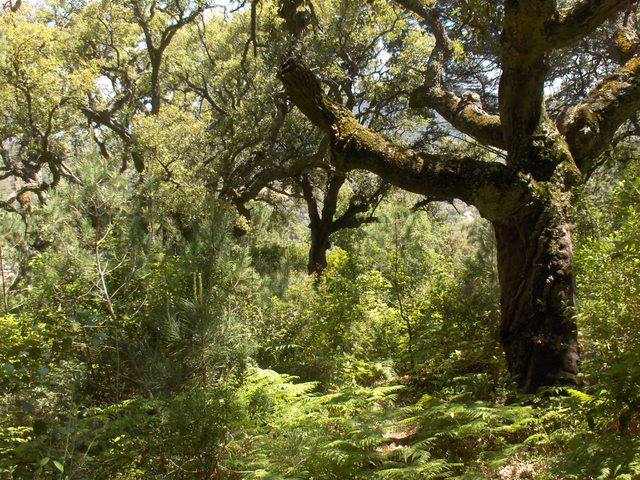 El valle del rio Murtiga
Galaroza y el rio Murtiga

Almonaster La Real
Almonaster, en plena Sierra de Aracena, por su acentuada identidad cultural, su vigorosa naturaleza y su singular poblamiento, forma un territorio con personalidad propia que se proyecta en los modos ...